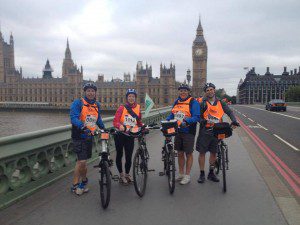 This year we decided to join an event organised by someone else rather than having to arrange our own. We decided to Join Nightrider London which took place on the night of the 8th June 2013.
It was a very different experience to previous years. With having so many other riders following the same route as us it made following the route laid out much easier and have you added incentive to push towards the end. Also, because the route took us through the centre of London it was an amazing opportunity to ride those streets past some of the best landmarks and sights with a much more controlled ride than would ever have been possible on our own or during the day. Thought it did make getting good pictures almost impossible!
We started the ride at Crystal Palace at 23:20 along with about 150 other riders and made our way out on to the streets, I think that it is safe to say that we were all feeling a little worried about what might be ahead but were looking forward to it anyway. Coming out of the park the first mile of the ride was an amazing down hill run where most riders were getting up some speed. Simon (Who likes the speed on downhill sections was off) trusting that his breaks would be fine at the bottom whereas Roger and Mary took a much more leisurely approach coasting down the hill.
One of the things that you notice about riding in large numbers like that which is different from previous years was that you really do have to have eyes everywhere. In the past, when we have been on a bike ride there has been and order of riders and this helps everyone to know what everyone else on the ride is going to be doing. But when there are so many of you that becomes much more difficult. on several occasions, are little group would pull off to the side only to hear someones breaks as we cut them up. But everyone was very well-mannered.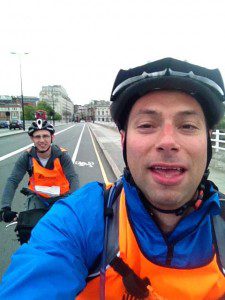 Cars on the other hand were a different story. As there were so many of us it was not as bad as it could have been but when there are 500 cyclists in your way when you are trying to get home from wherever you have been they did tend to get a little impatient and of course, this just leads to near misses.
I think the most interesting thing this year has been the story of how we got to the bike ride in the first place as this year has been plagued by problems from the very start. while trying to decide if we should do a ride this year and if we were to do one, where it would be we had no idea of the problems that were going to arise along the way. everything from bad weather preventing us from training, to problems with bikes, right through to one of the members of the team being taken in to hospital just 5 weeks before the ride was due to take place!!! We are happy to say that even with Simon Being taken ill, he was still able to take part and indeed managed to finish the whole ride of 67 miles!!!
If you would like to follow the blog which tracks our progress through the training, then Click here to see the Charity Bike Ride Blog.
As you can see despite the odds the ride was a success and we are very proud with the amount of money that we have managed to raise so far. But there is still time for those of you who would like to add a donation however large all small. As you can imagine, every penny counts when times are hard and that goes for charities too! So Please, anything that you could spare is always a great help.
Nightrider 2013 Charity Bike Ride
Finally, we would like to say that if you have found our blogs and website interesting with regards to raising money then you might want to think about the charity that we raise all the money for. We appreciate all the donations that have been given to us this year, but feel that people might want to find out more about the charity that the money will go to.
Dystonia is the term used to describe uncontrollable and sometimes painful muscle spasms caused by incorrect signals from the brain. It is estimated to affect at least 70,000 people in the UK.
Dystonia is a neurological movement disorder. Faulty signals from the brain cause muscles to spasm and pull on the body incorrectly. This forces the body into twisting, repetitive movements or abnormal postures. Unfortunately there is not yet a cure.
The Dystonia Society provides support, advocacy and information to anyone affected by the neurological movement condition.