Phoebe Key is just 22 months old… tonight is her first night in "Big Girl Bed" it started off quite well she seemed quite happy about the idea of not being in her cot.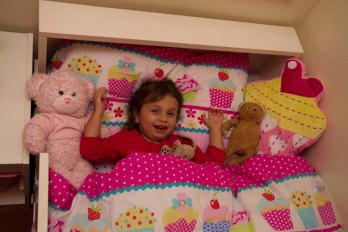 I should point out that the very reason that she is going in to a "Big Girl Bed" was because Phoebe has become an escape artist. she is able to get herself on to the top of her cot but is too small to make it safely down the other side. To avoid an embarrassing trip to the hospital thought it might be better to mover her in to bed.
of course the problem now is that this is all become somewhat of a game. now a 20:15 she is busy downstairs putting her shoes on ready to go out for a walk!!! Please Phoebe time for bed!!!