Check In From – Simon Key, Roger Key and Joshua Key
Today me (Simon), Joshua and Roger went to London on an unrelated matter to our bike ride. However, as we were there took the opportunity to have a look at part of the route for the bike ride. The section we were interested in was the section that took us up the hill to Alexander Palace. As this a monster of a hill!!! And after looking at it, it has posed a few questions over fitness!!!
We did try to take a few pictures in an attempt to give people an idea of the scale of this hill. Unfortunately, we came across another problem which had better not happen when we are on our bike ride. Snow!!!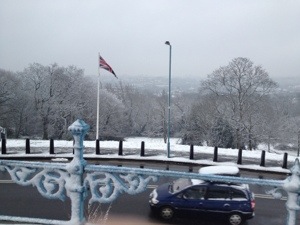 As you can imagine, if its like his then there is no chance that we will even be starting the ride. But all that aside, the climb to the top where Alexander Palace is located is going to be a challenge. For those of you local to the south coast. It is taller than Burseldon hill by a long shot and just as steep.
The only saving grace will be the view from the top and the ride down the other side.
Here's hoping that when the time comes to climb to the top that the weather will be much, much better and that our fitness is substantially improved.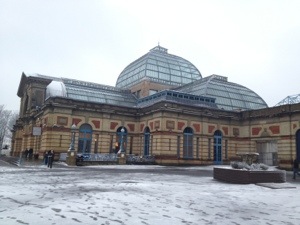 A picture of the beautiful building that sits on top of the hill to greet us.