Raising Money For Charity.
For several years now, we have been riding our bikes across the country to raise money for charity. This is something that for several years has been close to our hearts and is a way for us to try to give a little something back. We like to take part in these rides as they help us to become closer as a family and support each other. It gives those that take part something to work towards that keeps us fit. and as it is a way of keeping us fit loosing weight and rasing mony, it has become a great way for us all to benefit.
In the past we have completed rides all over England. From Watford to Warsash, Coventry to London, Reading To Bristol and many more. We have tried our best to find interesting routes that challenge us. We hope that they are impressive to those who have sponsored us in the past. Each year, we have raised money for a charity. Most years in the past we have been rasing that money for the Dystonia Society. A charity which is very close to the family as there are close family friends who suffer from it. The charity is very small and the advantage of riding around the country has always been that we could raise awareness of Dystonia as we went so that more and more people knew how it could affect those who suffer from it.
If you would like to know more about Dystonia and its symptoms and effects, then you can visit the Dystonia Society Website for more information.
This year we embarked on another bike ride for the Dystonia Society we joined an organised event – Night Rider London which as the name suggests was a bike ride through London in the middle of the night. It was an amazing event that was well worth taking part in.
This year's route took us 100K or 66 miles across the capital and promised to be very challenging. All those that are taking part this year have been looking to try to get some training in. However, the weather has not been kind. This proved to be an issue because we were not able to get enough miles under our belts in practice to prepare us for the ride.
If you would like to find out more about the 2013 bike ride and see pictures and the story of the ride from beginning to end. Find out more here.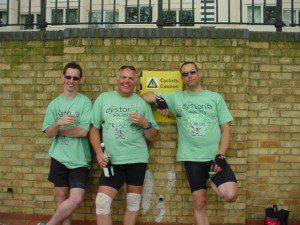 We hope that this year people will give generously and it's still not too late. We know that the recessions have hit everyone's pockets but this also includes charities which badly need the money to keep up those all-important services to those who need them. Any donation is always greatly received from these charities and we would like to be able to put forward a good sum of money to help.
If you would like to sponsor us for the ride this year however big or small the donation, please CLICK HERE and you will be taken to our fund-raising page.
Please Click Here to see our blog as we train and get ready for our latest challenge. You will find regular updates on our progress and you can even comment on our blog with helpful training tips!!!
 For details of our previous bike rides and photographs from those ride you can look here. There are lots of images from our previous adventures on bikes.